Saturday, 14 August 2021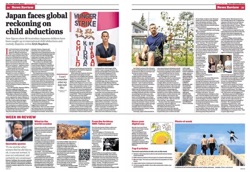 Up to 68 Australian-Japanese children have been caught up in parental abduction involving and child custody disputes, according to Department of Foreign Affairs figures.
The issue of child abduction in Japan has now morphed into a full-blown diplomotic stand-off for Tokyo, not just with France, but Australia and the United Stated. French authorities estimate more than 100 children have been caught up in similar cimrcumstances to the confirmed 68 Australian children. The United States has 475 officially recogniesd cases of children parentally adbucted to or within Japan and facing the same custody disputes under Japan's child abduction system.

https://www.smh.com.au/world/asia/their-children-were-taken-now-they-fight-japanese-laws-to-get-them-back-20210727-p58dbk....