Monday, 3 January 2022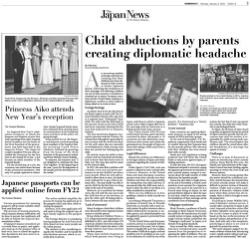 An increasing number of foreign nationals are claiming that their children have been abducted by their current or former Japanese spouse, following the breakdown of their marriage. Not allowing a child to see one of their parents is considered a criminal act in major European countries and the United States, leading to a diplomatic conflict in which Japan is being called on to revise its laws. ...

Original article (behind paywall)
https://the-japan-news.com/news/search

Article available to read on bachome.org
http://www.bachome.org/news/child-abductions-by-parents-creating-diplomatic-headache

Also reported via backhome.org on Twitter
https://twitter....